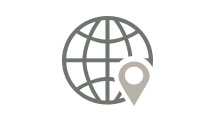 PRIVILEGED LOCATION
In the heart of Bariloche, whether for business or pleasure, we strive to bring you peace of mind. Our goal is for you to relax, recharge your batteries and make the most of all that our incredible location has to offer.
We are excited to be part of your journey and to create unforgettable moments for you.
Amenities
Design and Comfort
We have recently undergone a remodeling to offer maximum comfort to each of our guests. Our common areas have been carefully designed for you to enjoy a perfect stay. We invite you to live a unique experience in a central and strategic location in the city of Bariloche.
CONSULT
Discover our hospitality
TRUE HOSTS
In addition to our amenities and captivating spaces, our friendly and attentive staff is always at your disposal. We are committed to providing you with exceptional service, from the moment you arrive until you leave. Our goal is to exceed your expectations and ensure that every moment of your stay is extraordinary.
CONSULT
Unforgettable breakfast buffet
AN EXPERIENCE FOR YOUR SENSES
Every morning, our breakfast buffet offers you a unique sensory experience. Indulge in a wide variety of choices that will satisfy all your morning cravings. Enjoy fresh, juicy fruits, freshly baked breads and pastries, eggs prepared to your liking, nutritious cereals and creamy yogurts. In addition, we offer a selection of high quality cold cuts for those who prefer a more substantial breakfast. Gluten-free options are also available to meet your needs.
CONSULT
EXPERIENCE M
Immerse yourself in the M experience Discover a new and renewed hotel experience in our magnificent facilities.
We look forward to being part of your journey and helping you to
CREATING LASTING MEMORIES